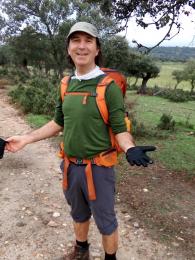 Nedjo has a masters degree in geography (his thesis focused on place, nature, and revolution) and over twenty years of experience working with social and environmental NGOs. He has helped numerous large and small non-profits harness Drupal to serve their missions.
As a Drupal contributor since 2003, Nedjo has made contributions in many areas of Drupal. As well as writing and contributing many Drupal modules, he has participated actively in diverse ways in the Drupal community:
wrote the theme region system in Drupal core,
collaborated in writing the first prototype of what became the Update module that allows Drupal sites to fetch information on available updates,
helped facilitate moving the jQuery Javascript library into Drupal core,
participated in the 2008 design sprint that mapped the way for CCK fields in Drupal core,
wrote some of the basic documentation on Drupal including the Drupal principles, usability aims, structure, and patch acceptance criteria,
led a project sponsored by Sony Music that improved the quality of dozens of major Drupal modules and major multilingual improvements for Drupal core and contrib,
served on the advisory board of the Drupal Association.
His current focuses include the Drutopia distribution and integration with the Fediverse.