Image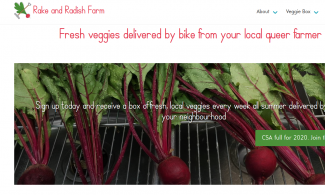 Body paragraph
Rake and Radish is a new farm located on unceded W̱SÁNEĆ territory (Victoria, Canada).
Rake and Radish Farm used Drutopia to quickly launch a farm website in early 2020 ahead of their first growing season.
The Drutopia framework provided a straightforward tool for developing a site full of engaging photos and a customized web form allowed sign-up for the CSA (community supported agriculture) veggie box program.
The CSA program filled in a matter of weeks and farmer Ardeo has just completed a very successful first season.
Winter will provide an opportunity for revamping the site with new photos which highlight the farm's development as well as a revised signup for the coming growing season.