Image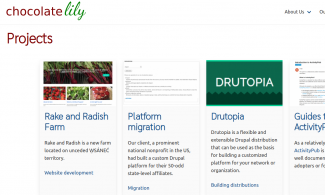 Body paragraph
Chocolate Lily Web Projects brings Drupal-based web technology and processes together with a deep understanding of nonprofit organizations.  The interconnection between these two worlds enables us to match our services to the unique needs and abilities of NGOs and grassroots groups.
Chocolate Lily:
help groups be more in control of their web technology,
promote the use of open source software by groups to avoid the costly reliance on proprietary software,
through the development of Drupal distributions—Open Outreach for Drupal 7 and Drutopia for Drupal 8—enable groups to easily install and set up their own website with minimal outside assistance.
Chocolate Lily works for:
non profits and NGOs,
co-operatives,
small, socially conscious enterprises,
informal activist groups,
groups working for social change.
Chocolate Lily is a family business, located on Salt Spring Island, BC, Canada staffed by founders Nedjo Rogers and Rosemary Mann.