Image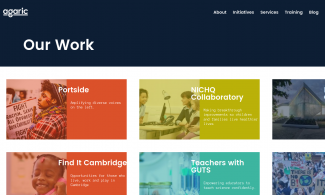 Body paragraph
From digital collaboration spaces for health and science communities to publishing platforms to opportunity finders for city residents, Agaric loves to do the hard work that supports people doing the harder work of making the world better. Some of our best work is done when we just ensure that the world can see an the great work done by Organizations around the globe.
We go deep
From our founding in 2006, Agaric's approach has been to deeply engage with the needs of our clients and collaborate with free/libre open source software communities to craft solid, sustainable solutions for all.
Agaric is a worker-owned cooperative specializing in building tools and websites that respect your freedom. Agaric also provides training and consultation to meet your goals.
Agaric co-op member/owner Benjamin Melançon has been leadership team member from Drutopia's early days along with then team member Clayton Dewey. Agaric's partnership with Chocolate Lily has formed the core basis of Drutopia development.